DOI:
https://doi.org/10.31861/pytlit2018.97.069
Biblical Motivs in Plays of Ukrainian Drama Writers after 2000
Abstract
Only in the 2000s, after the decades of Independence, Ukrainian drama managed to declare its existence as contemporary literature original phenomena in the first anthologies and monographs. Despite the striving for uniqueness in Ukrainian dramatic writings, the impact of atheistic Soviet culture provides its consequences. The outcome is mostly evident in the references of Ukrainian playwrights to the most profound places in the Bible. Non-canonical apocryphal works are considered to be the most popular among Ukrainian playwrights. (The Cursed, Chyrkov O. S.). Playwrights are also engaged in looking for logical explanations of unknown details concerning mysterious "the third force" placed amidst the good and the evil (Mark Fabius' Mistake E. Bogush), partly due to the influence of Mikhail Bulgakov's novel The Master and Margaret. In both plays, there is an attempt to explain logically events of sacred significance through the introduction of profane factors when proposing arguments based on causal relationships. The plays deal with the ability to manipulate the opinion of the majority, question the trust in the "facts" transmitted by the tradition and suggest the need for an own interpretation of phenomena and events important for our culture without blind faith in the canonical explanation.
Keywords
temporary Ukrainian drama; Gospel; Biblical apocrypha; genre; baroque; postmodernism; Eduard Bogush; Olexandr Chyrkov
References
Bohush E. Piesy [Plays]. Kyiv, 2007, 256 p. (in Ukrainian).
Bondareva O. Ye. Mif i drama u novitnomu literaturnomu konteksti: ponovlennia strukturnoho zviazku cherez zhanrove modeliuvannia [Myth and drama in the latest literary context: the renewal of structural communication through genre modeling]. Kyiv, 2006, 512 p. (in Ukrainian).
Bondareva O. Ye. Ukrainskaia dramaturgiia poslednei treti XX – nachala XXI veka: dinamika izmenenii prioritetov [Ukrainian drama of the last third of the 19th century – beginning of the 21st century: the dynamics of changes in priorities]. Naukovi zapysky Ternopilskoho natsionalnoho pedahohichnoho universytetu imeni Volodymyra Hnatiuka, 2009, no. 27, pp. 125–132. (in Russian).
Vysotsky V. Sobranie sochinenii : v 4 kn. Kniga chetvertaia. Ia nikogda ne veril v mirazhi [Collected works in 4 books. Book 4: I never believed in mirages]. Moscow, 1997, 608 p. (in Russian).
Eco U., Carriare J.-Cl. Ne spodivaitesia pozbutysia knyzhok [This is Not the End of the Book]. Lviv, 2015, 256 p. (in Ukrainian).
Sorokin V. Telluriia [Telluria]. Moscow, 2013, 448 p. (in Russian).
Straik iliuzii: Antolohiia suchasnoï ukraïns′koï dramaturhiï [The Rebellion of Illusions: The Antology of the Contemporary Ukrainian Drama]. Kyiv, 2004, 370 p. (in Ukrainian).
Chyrkov O. S. Prokliatyi [The Cursed]. Zhytomyr, 2014, 48 p. (in Russian).
Chyrkov O. S. Uspenie vremen [The Dormition of the Times]. Zhytomyr, 2014, 32 p. (in Russian).
Yurchuk O.O. Suchasna stratehiia baroko. Modyfikovani rysy baroko v ukrainskii literaturi kintsia XX stolittia [The Modern Baroque Strategies. Modified Baroque Features in the Ukrainian Literature in the End of 20th Century]. Zhytomyr, 2008,152 p. (in Ukrainian).
Burkhardt H., Grünzweig F., Laubach F., Maier G. Das grosse Bibellexikon, komplett in 6 Bänden. Band 1: A–D. Wuppertal, 1996, 413 S.
GOST Style Citations
Богуш Е. П'єси / Едуард Богуш ; [пер. з рос. В. М. Харитоненко]. – Київ : ДажБог, 2007. – 256 с.
Бондарева О. Є. Міф і драма у новітньому літературному контексті: поновлення структурного зв'язку через жанрове моделювання / О. Є. Бондарева. – Київ : Четверта хвиля, 2006. – 512 с.
Бондарева Е. Е. Украинская драматургия последней трети ХХ – начала ХХІ века: динамика изменений приоритетов / Е. Е. Бондарева // Наукові записки Тернопільського національного педагогічного університету імені Володимира Гнатюка. – 2009. – № 27. – С. 125–132.
Высоцкий В. Собрание сочинений : в 4 кн. Книга четвертая. Я никогда не верил в миражи / В. Высоцкий. – М. : "Надежда-1", 1997. – 608 с.
Еко У., Кар'єр Ж.-К. Не сподівайтеся позбутися книжок / У. Еко, Ж.-К. Кар'єр ; [пер. з фр. Ірини Славінської]. – Львів : Видавництво Старого Лева, 2015. – 256 с.
Сорокин В. Теллурия / Владимир Сорокин. – Москва : Corpus, 2013. – 448 с.
Страйк ілюзій: Антологія сучасної української драматургії / автор проекту та упорядник Н. Мірошниченко. – Київ : Вид-во С. Павличко "Основи", 2004. – 370 с.
Чирков А. С. Проклятый / А. С. Чирков. – Житомир : Рута, 2014. – 48 с.
Чирков А. С. Успение времен / А. С. Чирков. – Житомир : Рута, 2014. – 32 с.
Юрчук О. О. Сучасна стратегія бароко. Модифіковані риси бароко в українській літературі кінця ХХ століття / О. О. Юрчук. – Житомир : Вид-во Житомирського державного університету імені Івана Франка, 2008. – 152 с.
Burkhardt H. Das grosse Bibellexikon, komplett in 6 Bänden. Band 1: A–D / H. Burkhardt, F. Grünzweig, F. Laubach, G. Maier. – Wuppertal : Brockhaus, 1996. – 413 S.
Copyright (c) 2018 Mykola Lipisivitsky
This work is licensed under a
Creative Commons Attribution 4.0 International License
.

The journal publishes research papers on terms: Creative Commons Attribution 4.0 International License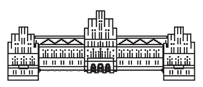 Pytannia literaturoznavstva
ISSN 2306-2908 
Yuriy Fedkovych Chernivtsi National University
2 Kotsiubynsky str., Chernivtsi 58012, Ukraine